An Unlikely Partner in Creating Culture….a Stuffed Animal Named Mona
As CEO of a startup company during a global pandemic within the hardest hit industry, there were times I wished I had something comfortable and reassuring to calm the fears of the unknown. This past year reminded me that it is ok to embrace my inner child to get through tough times. And, in my case, an arctic fox named Mona.
When the pandemic hit, most CEOs had to figure out how to maintain culture. At Zartico, we needed to figure out how to build culture. During the past year, we've grown from five to over thirty employees. When the world shut down, we had to figure out how to hire and build a team without ever having the chance to break bread or shake hands.
I had no playbook for this moment.
Prior to Zartico, every other job I've ever had was office-based. When I was running ENVE, I drove every day to our headquarters in Ogden, Utah. I built office culture. I was a walk-around manager. I could feel and see when things were going well and when things were faltering.
Now as a work-from-anywhere company, we needed to figure out how to create connections among our growing team. We deployed every technique we knew: we have a weekly all-hands where a lucky employee gets to do a This is Me presentation (a 15-30 minute presentation employees give about themselves and what is important to them). Like many others, we embraced slack where I learned the power of emojis and gifs. We have happy hours and virtual toasts.
But I will admit that the most powerful connector also came as the most surprising. During this tumultuous time, we had to rebrand our company. Our new name, Zartico, represents an arctic fox, the most adaptable animal in the world. Through the rebranding process, our Chief Marketing Officer, Ted Sullivan, created a mascot and then engaged the entire team to name it. We received dozens of ideas from all over the company. We finally looked to one of history's greatest artists and scientists, Leonardo da Vinci, and chose Mona, in honor of the Mona Lisa, representing the art and science we create with our partners.
I was initially skeptical. Over and over, I pleaded, "Please do not turn this into a gimmicky mascot thing...we are a serious company solving serious problems." Thankfully, he did not heed my warning. Instead, Ted purchased hundreds of stuffed foxes and began sending them to our partners.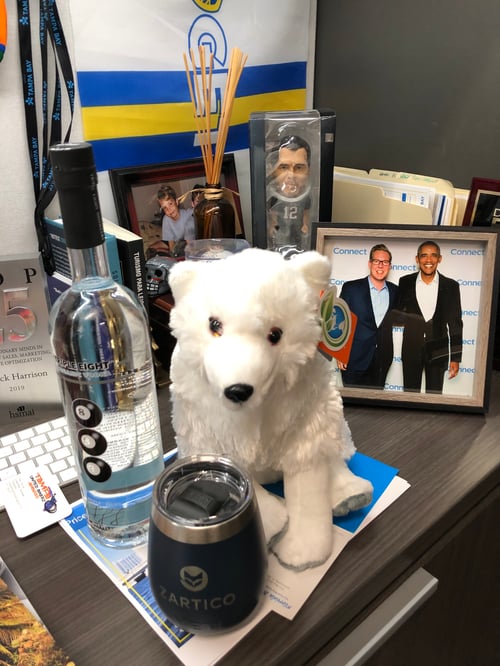 And then Mona began appearing in our Instagram posts.
It was not until Ted sent a Mona to every one of our now thirty employees that I fully internalized the power of a teddy bear.
What I finally understood was how something so simple and childish created connection. It brought smiles to our partners' faces. It created a reason to post a photo to the @everybody slack channel. It created banter about each other's families and dogs. It created culture.
I had two nicknames growing up—in my younger years, Bubbles and as I grew older, Serious Sarah. This experience reminded me that sometimes embracing your fun-loving, creative inner-child can actually be the very thing needed to create community among strangers. Perhaps the universe is speaking to me because while sorting through the last remaining items during a recent move, we found six bins of my children's stuffed animals (they are now all teenagers). For some reason, I have not put them away and so every night we sit in the family room surrounded by our childhood memories. Yesterday, my 17-year-old daughter looked at me and said, "Mom, it finally feels like home."
What's next? That is the amazing thing. This world is full of incredible art and science. We will keep finding it, exploring it and embracing it with a child's sense of wonder. We Zarticans grow older and wiser each day, but we remember that we can stay youthful by keeping our inner child ageless. Thank you Mona.